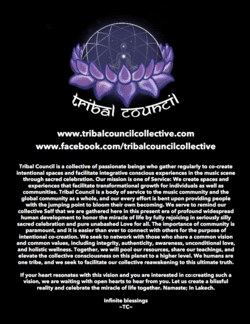 Tribal Council is an intentional production collective pioneering the mission to bring transformational experiences to the music scenes everywhere. At our core we are life enthusiasts, a group comprised of hundreds of artists, musicians, producers, promoters, dancers, yoga teachers, energy healers, farmers and much more. Through producing our geodesic dome workshop stages and chill out lounges at music and arts festivals around the country, throwing conscious parties for the community, and hosting intentional retreats and outdoor gatherings, we spread the message to %u201CRage with Awareness%u201D and build heart-centered community everywhere we go. We are a non-profit community organization, meaning all of our proceeds go back into the collective so that we may improve the resources we use to create containers for intimate group experience and personal evolution.
Our mission is one of Service: We create spaces and experiences that facilitate transformational growth for individuals as well as communities. Tribal Council is a body of service to the music community and the global community as a whole, and our every effort is bent upon providing people with the jumping point to bloom their own becoming. We serve to remind our collective Self that we are gathered here in this present era of profound widespread human development to honor the miracle of life by fully rejoicing in seriously silly sacred celebration and pure unabashed Love for all. The importance of community is paramount, and it is easier than ever to connect with others for the purpose of intentional co-creation. We seek to network with those who share a common vision and common values, including integrity, authenticity, awareness, unconditional love, and holistic wellness. Together, we will pool our resources, share our teachings, and elevate the collective consciousness on this planet to a higher level. We humans are one tribe, and we seek to facilitate our collective reawakening to this ultimate truth.
If your heart resonates with this vision and you are interested in co:creating such a vision, we are waiting with open hearts to hear from you. Let us create a blissful reality and celebrate the miracle of life together. Namaste; In Lakech.