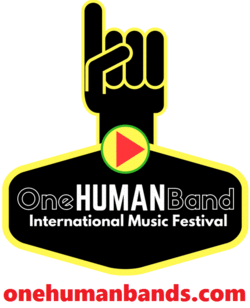 OUR 2017 FEATURED INTERNATIONAL TOURING GUESTS
alphabetical order | see below or click artist for dates & times
JEAN-PAUL DE ROOVER (Canada)
: Electronic Folk Rock
DIXIE DUNCAN (Atlanta)
: One-Axe Orchestra
BRIAN FITZY (Philly)
: Funk, Soul, & Hip-Hop Dynamo
KAILA MULLADY (NYC)
: World Champion Beatboxer
LETHALFX (Columbus)
: Founder, "Shut Your Mouth & Beatbox"
NOAH PETERSON (SATX)
: Nat'l Fest Founder & Sax Machine
BUTCH ROSS (TN)
: Alternative Mountain Fusion
SAULPAUL (Austin)
: Acoustic Hip-Hop; 40 Under 40 Honoree
VIOLONCHELOOPS (Mexico)
: Eclectic Electric Cello
Beatbox. Electronics. Guitars. Horns. Loops.
NO LIMITS...
The
One-Human Band International Music Festival
features explosive & innovative solo musical armies merging talent & technology to create some of the best live shows you've never heard. Our eclectic mix of international touring artists are enterprising & self-designed pioneers in independent music.
ALL EVENTS
are
ALL AGES
and
FAMILIES ARE WELCOME!
under 21 welcome w/adult 21+ | parental discretion encouraged.