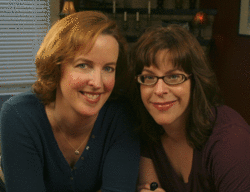 Kerry Colburn is a Seattle-based author, editor, cocktail drinker, and mom of two young girls. Former executive editor at Chronicle Books, she now happily writes books from her (often chaotic) home or a variety of coffee shops in her neighborhood. She is the author of many nonfiction titles including How to Have Your Second Child First, Good Drinks for Bad Days and So You Want to Be Canadian? Her latest book, Mama%u2019s Big Book of Little Lifesavers, comes out in Spring 2011.
Jennifer Worick is the co-author of the New York Times bestseller, The Worst-Case Scenario Survival Handbook: Dating & Sex. In addition, she has co-authored or written more than 25 hilarious and helpful books, including her newest titles, Beyond the Family Tree: A 21st Century Guide to Exploring Your Roots & Creating Connections and Simple Gifts: 50 Little Luxuries to Craft, Sew, Cook & Knit. Formerly the editorial director at Running Press, she has written and reviewed countless book proposals and shepherded many successful titles to market.
In addition to their workshops and talks, Jen and Kerry are available for personal consultation on your book idea or proposal. Contact them for rates.