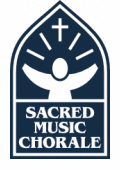 Founded in 1999, the Sacred Music Chorale is focused on keeping alive the traditional choral music of the Christian Church, bringing together voices of all denominations from across the Puget Sound region.
The Chorale is directed by Mark Adrian, who joined the group in 2010, bringing with him nearly thirty years of conducting and teaching experience. Our accompanist is Thelma Strand, a Seattle native who has been with the Chorale since its inception.
The Sacred Music Chorale is proud to announce our schedule for the 2012-2013 season. For our 14th season, we are offering three excellent opportunities to hear the great choral music of the Christian Church performed in sacred settings throughout the Seattle area. We hope you will join us!
Sacred Music Chorale is an artist-in-residence at Trinity Parish Church, Seattle.