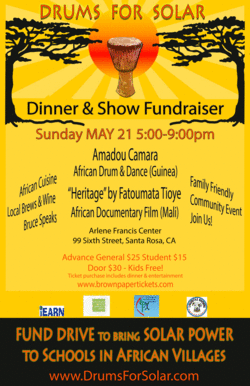 Drums For Solar
Double Down Fundraiser Dinner & Show!!
Ticket price includes admission, dinner, show...and more!
INTERNATIONAL ROTARY will match donations collected during the event and beyond by 100-150%!
Your contribution helps to:
~ Purchase of the additional components required to assemble schoolhouse solar arrays for several village schools in Mali.
~ Support the a creation of sustainable trade network with Drums For Solar and Niamana Women's Shea Butter Cooperative
Traditional African Cuisine
Entertainment provided by Guinea native Amadou Camara and his African Drum & Dance Company.
Short Documentary Video "Heritage" by Fatoumata featured at the event.
Bruce Speaks on recent sojourn to Mali, Ghana, Burkina Faso to create partnerships and network for cultural exchange. Slide show, stories, Q&A session
Solar Schoolhouse Demo: Solar array will be on display to demonstrate the cultural exchange!
Local beer & wine, beverages for sale.
Raffle items on sale
Additional Donations accepted for Drums For Solar
Tickets for Admission, Dinner & Entertainment:
Advance - General: $25 / Students: $15 Brown paper tickets
Door - $30
Kids - Free