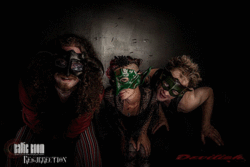 Making high quality leather cases is rewarding; making creatures with their own personalities, however, is addictive. First they took over my living room, and then they took over my life.
Working exclusively with meat industry by-product leather, found objects, professional leatherworking tools and random household objects, I strive to create the highest quality leather masks possible.
In each of my workshops, I share my knowledge while encouraging students to explore their own design ideas.