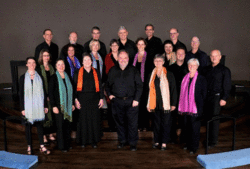 Atlanta Schola Cantorum is a 30-voice chorus specializing in the performance of sacred choral music of the Renaissance, notably the works of Josquin, Palestrina, Victoria, Tallis, and Byrd. This focus on Renaissance polyphony sets Schola apart from other Atlanta choirs. Schola strives to present authentic, engaging performances of this timeless but little-known music. The group also performs rarely heard medieval chants as well as early baroque music and works by contemporary composers such as Pärt, Tavener, Lauridsen, and Whitacre.
Founded in 1974, Schola is the oldest independent chorus in Atlanta. The group presents two sets of concerts a year (winter and spring) in the Atlanta area, with occasional concerts at other venues in the Southeast, including the Piccolo Spoleto choral festival in Charleston, S.C.
Atlanta Schola Cantorum is an auditioned mixed chorus of amateur and professional musicians who volunteer their time and talents. While most of Schola%u2019s performances are a capella, some concerts include works accompanied by period instruments, organ, or piano.
Director John Whitt holds a Master of Music from Westminster Choir College and a Bachelor of Music Education from the University of North Carolina, Chapel Hill. He has studied conducting with Joseph Flummerfelt, David Willcocks, Frauke Haasemann, James Litton, and Robert Porco. Whitt is organist and choirmaster at St. Bede%u2019s Episcopal Church in Atlanta and a member of the Royal School of Church Music, the Association of Anglican Musicians, and the American Guild of Organists.