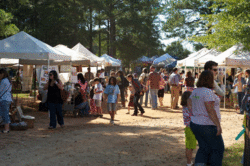 Field of Greens is a festival celebrating local foods grown and raised by Georgia farmers, prepared by more than 25 of Atlanta and Athens' most stellar chefs. The event is comprised of several small organic elements that, combined, educate and celebrate local, sustainable food and living.
Imagine a beautiful October day. You%u2019re on a small organic farm just outside Atlanta. The sun is shining. The fields are green with fall vegetable plants. You%u2019re sitting with friends outside enjoying a plate of food made from fresh, local vegetables and sustainably raised meat. The sounds you hear alternate between the music of a blue grass band, the bleating of goats, the cackling of chickens and the wholesome sounds of children running among towering okra stalks.
Then, you notice that your plate is empty, the squash bruschetta and pork schnitzel sandwich now but a memory. But you%u2019re not disappointed. Instead, you simply walk back into the large food tent, gaze across the serving tables of the nearly 30 Atlanta and Athens farm-to-table chefs present, and decide which you are going to eat from next. Is this a dream? No, it is the Field of Greens festival.
Over the last five years, thousands of people%u2014young and not-as-young%u2014have come from across Atlanta, Athens and parts in between and beyond to gather at Whippoorwill Hollow Organic Farm in Walnut Grove, Ga, for this festival. It%u2019s grown every year and is the preeminent, most affordable event of its kind in Georgia.
The income generated through Field of Greens since its inception in 2005 has funded several key programs of Slow Food Atlanta, a 501(c)3, eco-gastronomic member-supported organization founded in 1989, that believes everyone has a right to enjoy good, clean and fair food:
* Georgia Flooded Farmers Relief Fund %u2013 helping local farmers recover from lost crops and devastating livestock losses
*Terra Madre Fund %u2013 sending delegate farmers from Georgia to the International Slow Food educational conference
*Wheat Street Gardens %u2013 a four-acre organic urban farm in Atlanta%u2019s historic Old Fourth Ward designed to teach and bring attention to the benefits of sustainable urban agriculture.