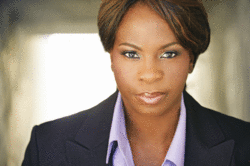 "I Met Someone!" is an insightful and entertaining account of the star's search for love in all the wrong places. Cheryl's bold honesty and sidesplitting wit brilliantly intertwines tales of love and loss, as she struggles to find "Mr. Right". Who could have imagined that one little girl's story of hope, dreams, and laughter, mixed with courage and heart touching disappointment would have such a powerful affect on everyone in the theater.
Cheryl brings color, warmth, passion, and believability, with a new twist to an age-old story...https://www.metsomeone.com
It%u2019s Official! I Met Someone Is Changing The World Through Theater
I love characters that are considered under dogs. For I have often been over looked in my life. As an Actress, I am committed to making the world a better place through the power of the arts. %u201CChanging the world through theater%u201D.
This story is the first story, your story. If you are single, in a relationship, bitter, or just in the %u201CI Don%u2019t Care!%u201D phase, this show is for you. This is such a wonderful story... Proving that hope is still alive and that it's never too late to dream and fall in love...
I Met Someone! - The Play by Cheryl Francis Harrington
Watch our Video: Exciting http://www.indiegogo.com/IMetSomeone