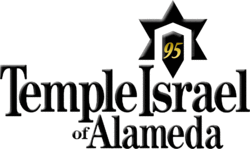 Founded in 1920, Temple Israel is a multi-generational, small, welcoming and friendly Reform congregation in Alameda, CA. Our spiritual leader is Rabbi Barnett Brickner. Temple Israel is the only Jewish synagogue or organization in Alameda.
For more information visit our website, www.templeisraelalameda.org and/or follow us on Twitter @templeisraelala. Send us your questions to events@templeisraelalameda.org.
We look forward to welcoming you to Temple Israel!