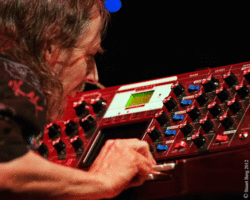 Keyboardist NEIL ALEXANDER has been performing professionally for 30 years. He works with music in all forms and styles from Composer/Arranger and Production of Live Sound to Musical Theater, Modern Dance and Film.
As an active musician he has a recording and/or a performance history with a variety of groups and artists such as The Machine, The Mahavishnu Project, Tony %u201CThunder%u201D Smith, Gunther Hampel, Tal Ross (P-Funk), Charles Haynes, Erik Lawrence, and The Adaptors Movement Theater. His classical repertoire includes works by Stravinsky, Charles Ives, and John Cage.
His most recent release, %u201CDarn That Dream: Solo Piano Vol. 1%u2033 is already recieiving critical acclaim. Prior to that he was promoting and managing his own modern music ensemble %u201CNAIL%u201D with whom he has produced 4 discs, the most recent entitled %u201CTugging at The Infinite%u201D. In addition, Neil also teaches Master Classes in Synthesizer Programming and Music Performance Technology.
Currently Neil is booking and performing a solo piano concert series titled %u201C100 Years Of Spring%u201C, celebrating the centennial of Stravinsky%u2019s %u201CRite Of Spring%u201D with a stunning solo piano arrangement.