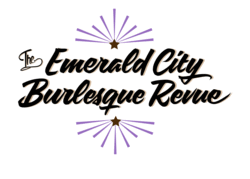 Welcome to Seattle's Quarterly Classic Tease!
The Emerald City Burlesque Revue was formed to pay tribute to the art of the tease and honor the raw bumps and grinds of the legends who paved the way for this beautiful, sexy and mysterious art form. We invite exhibitionists and voyeurs alike to immerse themselves in the golden era of classic burlesque, to celebrate the individual expression, identity and presentation of every body that graces the stage and audience!
The Emerald City Burlesque Revue is Sabina Soubrette, Jovie DeVoe and Karmen Sutra joined together to bring you quarterly classic burlesque revues, and so much more!