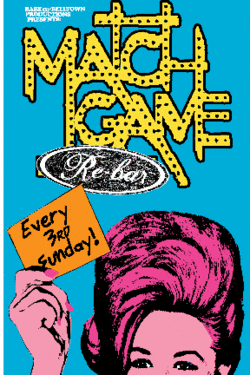 We are back for our 6th season!!!
"Gams Galore got on MATCH GAME Re bar by shaking her ____________ in Vincent Drambuie's face!"
The Classic 70s fill-in-the-blank TV game show "Match Game" and its Dynamite host Gene Rayburn get a few new twists in MATCH GAME Re bar an exciting, fast-paced, live, interactive, reinvention of the bawdy classic.
Watch as 4 contestants per show will be pulled directly from the audience to try to win fabulously funny prizes by matching wits with local celebrity guest stars.
Hosted by the man whose almost always pleasant, RICHARD RUGBURN, and our Prize Butterfly Miss Moist Towelette, MATCH GAME Re bar is pure improv comedy you just don't want to miss. Be there or be _________!
MATCH GAME Belltown is on the 3rd Sunday of the month at
Re bar 1114 Howell St October - June * Special MATCH GAME Matinee - Doors @ 2pm Show @ 230.
6th SEASON
Oct.21st - Manifest Destiny - Gaydolf Hitler, Miss Anita Goodmann, Philbert Wunderbarr III, Nelson Heston Riley...
Nov.18th - Rugburn, Richard Rugburn
*Dec.9th - The End is Near!
Jan. 20th - The Age of A Queery Ass! - Nelson Heston Riley, J. Von Stratton, Mr. Marcus, Bing Wheeler, Vincent Drambuie & Belltown Betty 2012 Amanda V
Feb.17th - Heads of State - Waxie Moon, Vincent Drambuie, Dark Gable, Danielle Radford, Anne Coulter, Scarlett O'Farrah & Nelson Heston Riley
Mar. 17th - St. Patty's A Snake Chaser -
Apr. 21st - Give A Hoot! - Jennifer Jasper, Shane & Michael from Collide-O-Scope, Trickles The Clown, ...
May 19th - Cher Wars VI - The Day Before Cher!
June 16th - Are You My Daddy?
Doors @ 7:00 Show @ 7:30 $10 Adv. $12 @ Door 21
Re bar 1114 Howell St. (206) 233-9873
(Boren & Howell)
Re bar is a CASH ONLY Establishment. Money Machine inside.
For more info please visit...
rebarseattle.com/
matchgamebelltown.com/
facebook.com/pages/MATCH-GAME-Belltown/80796792757
www.youtube.com/watch?v=Fr1RdEP00eQ
goodanswer.tumblr.com/