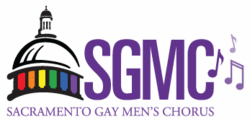 The Sacramento Gay Mens Chorus was founded in 1984 as a singing group that aimed to foster a sense of community and provide support for gays and lesbians in the Sacramento area.
Over the past 28 years, through musical performance and outreach programs, the chorus has grown to become an integral part of the Sacramento arts community, as well as a voice for the Gay and Lesbian Community in the greater Sacramento area.
With that voice, SGMC has confronted intolerance and bigotry by providing a positive experience of the gay community.
The Sacramento Gay Mens Chorus strives to create a safe and FUN environment for gay men who enjoy making music together. The chorus strives for musical excellence with an in depth rehearsal schedule and music education programs.
The SGMC season begins in August and ends in June. During the course of the year, the chorus put on two or three major concerts as well as many smaller outreach performances at public and private venues.
Come join us for one of our shows in the 2012-2013 season!