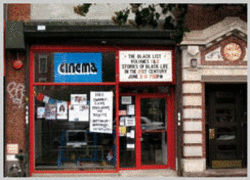 Who We Are:
The Maysles Cinema, a non-profit theater in Harlem, is dedicated to the exhibition of documentary film and video. The cinema extends the Maysles Brothers' principle that the lives of ordinary people not only deserve, but demand, our attention. We aim to foster a democratic viewing experience by selecting and presenting movies in collaboration with independent filmmakers, programmers, critics, local film clubs and organizations.
We work hard to solicit material and programs from amateur video-graphers, "hood" documentarians, street vendors, video store-owners, neighbors and citizen-activists. In addition to presenting the masterworks of the documentary tradition, overlooked or under-distributed gems and new releases, we build a space for meaningful social exchange. We offer a forum for the discussion of questions of social, racial, and economic justice and explore liminal areas of knowledge.
The space can be rented out for video screenings, lectures, theatrical readings, live music, and sometimes dance parties.
$10 General Admission (suggested). The theater generally opens one hour before showtime. Limited seating available so be early.