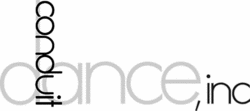 Over the past twenty years Conduit's place in the region has been at the core what makes Portland a growing contemporary dance destination of national stature. Experiencing dance up-close has been a mainstay at Conduit's intimate studio theater since it's opening in 1995. Conduit is a site where contemporary dance is created, rehearsed, were dancers train, and new work is performed. A wide range of talented contemporary dancers and choreographers come to Conduit to study, offer and take workshops, create, rehearse, perform, and see each other's work.
Three thrusts of activity, Training, Work Space, and Performance advance Conduit's mission. Conduit aims to create an environment where creative risk, independent career paths, collaborative relationships, diverse practices and presentation of innovative dance can flourish. Conduit additionally provides crucial links to artists and organizations throughout our region and nationally.
Conduit Dance believes that art is a dynamic social force that inspires individuals and defines cultures. With its three major thrusts of activity, Conduit greatly shapes regional dance by providing the community with affordable space and the support necessary to promote experimentation and excellence, as well as a central hub for interaction with the performing arts.