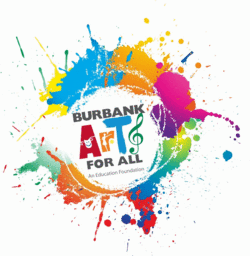 Our Mission:
The Burbank Arts for All Foundation's mission is to ensure every student in Burbank public schools has access to a quality visual and performing arts education as part of their core curriculum.
Who We Serve:
Through our two annual grant making cycles and community building efforts, we support arts education programming for the over 15,000 children in the Burbank Unified School District(BUSD).
Why We Do What We Do:
a) Because of California state budget cuts, BUSD faces approximately $5 million dollars in budget cuts each year, b)Eight of the sixteen schools in BUSD are considered Title 1 schools where 40% of the students come from a low-income family. The arts help these kids transcend their everyday pressures, c)Statistics have shown: kids in the arts stay in school and improve their grades, d)The arts are transformative creating the future generation of Burbank%u2019s creative industry, instilling innovation to compete in the 21st century, and empowering confidence and artistic expression.
Your donation to the Burbank Arts for All Foundation, ensures these vital visual and performing arts programs can continue to flourish and grow in our schools - - making a difference in the lives of every Burbank student and our community.