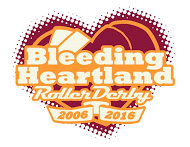 Flat track roller derby is making a comeback, exploding on the scene since its re-invention in Austin, Texas, in 2000. You can find a roller derby league wherever there are tough, dedicated women with the desire to hit hard and skate fast. Modern roller derby is NOT the showy, pro-wrestling-style event of the past, in which fights and cheesiness sometimes upstaged athletic ability and sportsmanship. Modern roller derby is a sport that requires strategy, athleticism, and a hard-hitting attitude, and there is plenty of excitement for fans from all walks of life.
Located in Bloomington, Ind., the 2016 Bleeding Heartland Roller Derby league consist of two teams: the Flatliners (in their 10th season) and the Code Blue Assassins (in their 7th season). These teams play locally, throughout the Midwest, and nationally BHRD has been to New York City, New Orleans, and Pittsburgh. BHRD even went international in 2014 with two trips to Canada.
The members of BHRD are your neighbors, coworkers, classmates, teachers, mothers, daughters, employees, and bosses. They have dedicated their time, talents, sweat, and sometimes even blood to making BHRD all it can be, and to bringing the sport they love to the community they love.