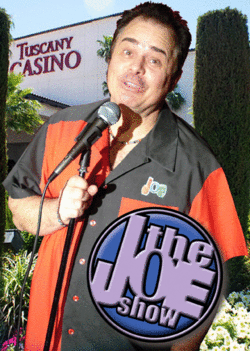 The Las Vegas Comedy Show presents, "THE JOE SHOW". This 75-minute performance features comedian, Joe Lowers, who's been doing comedy for two decades and headlining Las Vegas for the past five years. You've seen other comedy shows around town, but you've never seen a comedy show like this. Joe's one-of-a-kind sense of humor and his ability to involve the audience make this the one comedy show to see! This is the wildest, craziest, nuttiest, silliest comedy show in Vegas. 'THE JOE SHOW' is at the Tuscany Suites & Casino, just one block east of Bally's Hotel on Flamingo Road. Be ready for the laugh of a lifetime!
If you want to see a regular comedy show, go down the street. If you are ready to LOL till it hurts and be amazed that comedy doesn't have to be scripted, then head to THE JOE SHOW.
THE JOE SHOW SHOWROOM features a full bar, 125 seats. Each full price ticket includes 1 free drink!