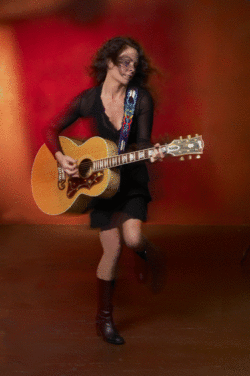 With music that takes you from subtle and poetic ballads to uplifting acoustic rock grooves, and knock-you-to-your-knees original blues, Westword writes, %u201CFolsom moves with a vocal prowess, her songs hit like little earthquakes."
She has released 7 CDs, the most recent %u201CGirls Like Us%u201D with the Rhythm Angels went to #4 on the National Roots/Americana radio charts, finished top 50 on College Radio and stayed on the top 40 Roots/Americana charts for all of 2009.
Rebecca is a nationally touring artist, performing at such venues as BBC, London television and radio, NY's Bitterend and Falcon Ridge Folks Festival, Nashville's Bluebird, Opryland, and Tin Pan South, Kerrville Folk Festival, Colorado's Red Rocks Amphitheater, and the Rocky Mountain Folks Festival.
She is also a teacher and has taught the Art of Vocal Freedom for over 15 years in private sessions and international workshops. Also a painter and a poet, she received her BFA in Fine Arts at the University of Colorado showing her work in private shows and galleries. Her artwork dresses the covers of her two poetry books published through Kalmia Publishing.
Rebecca muses, %u201CMy aim is to awaken and uplift people through all artistic expressions. Be it music, fine art or poetry it is important for the arts to reflect the realities going on in the world today, socially and politically, but it is equally of value to offer comfort and inspire joy.%u201D
A delicious blend of acoustic guitars, mandolin, upright bass and uplifting three part harmonies, the sound is rich with groove and yet spare enough to let the poetry of the songs shine through shooting straight to the heart.
The Boulderado
%u2026Songs that are at once literate and emotional and strike just the right note of connection and invention while staying spare and serving the music.
Dirty Linen Magazine