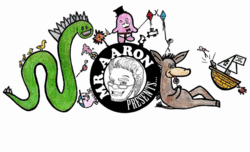 Mr. Aaron Presents is Hawaii's most active company in Hawaii doing both Stand Up and Improv comedy shows and training.
Since the founding of Mr Aaron Presents in 2011 we have appeared on the Oprah Winfrey Network realty show Life with La Toya, had 5 radio interviews, 2 featured newspaper articles, 6 TGIF and Freestyle articles, listed as a Pulse Pick event 3 times, and appeared as an Out 'n About event 36 times.
The Mr Aaron Presents flagship improv comedy team, Think Fast, holds the distinction of being the only improv comedy troupe to both perform and teach short and long form improvisation styles on Oahu. Think Fast coach David K Jones held a workshop designed for La Toya Jackson which was shown in Season 2 of Life with La Toya. Since 2013 Think Fast events have the highest average attendance of any stand-up comedy or improv comedy show on Oahu.
Comedy Hospital began in 2012 at Station Bar and Lounge and is now the longest running comedy open mic show in Hawaii. Over 180 comedians have signed up and taken the mic at Comedy Hospital.