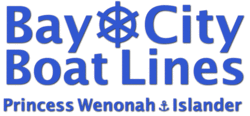 2019 events are available for reservation at www.baycityboatlines.com. Events will not be posted at www.brownpapertickets.com this season.
Bay City Boat Lines operates the excursion passenger vessels Princess Wenonah and Islander from Downtown Bay City, Michigan. We travel on the Saginaw River and to Saginaw Bay with tour groups, corporate parties, fundraisers, weddings, reunions and more. Operating seasonally from May to October.
The Princess Wenonah and Islander are both converted car and passenger ferries originally built for use on the Great Lakes. Today, they are used for entertaining private parties and public tours and cruises.
Bay City Boat Lines is a family operated business founded in 1998. We are proud to operate in a beautiful, friendly community. There is much to see during your stay in our area. For more information go to http://www.downtownbaycity.com or http://www.gogreat.com to plan your visit.
Also visit our website at htttp://www.baycityboatlines.com for the most up-to-date information on our events