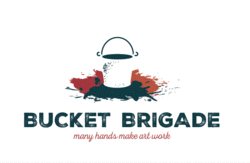 The Bucket Brigade is about making good art and passing it around- sharing good stories so they get to all the nooks and crannies of our community. It's about raising up the next generation of good art/deed doers. It's about spreading the love and passing the peace.
The Bucket Brigade is many hands making art work.
Our mission is to be a catalyst for creating quality art that engages, inspires, and uplifts the community:
- By producing theater that creatively connects with audiences and by providing hands-on art experiences for the community.
- By raising up the next generation of artists through workshops and art-making opportunities with seasoned artists.
- By telling redemptive stories and making art that meets real needs in the community.