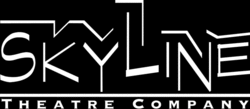 Mission-
The mission of Skyline Theatre Company is to bring together professional artists to create quality theatre that entertains and inspires an audience. We make commitments to the education of young people in all aspects of the arts and to cultivating and nurturing new artists and their works.
History-
Skyline Theatre Company was founded in 1995 in Morris County by a group of dedicated theatre artists and educators and moved shortly thereafter to Franklin Lakes in Bergen County. The professional company, then called The Arts Trust, was heavily funded by the Ramapo/Indian Hills School District and worked closely with high school students in the University Program in Theatre Arts and Communications. In 2007, with the passing of beloved educator and arts advocate Harry K. Berkheiser, Jr., funding for the UPTAC magnet program and, by extension, The Arts Trust diminished quickly, and the theatre company needed to make big changes in order to survive.
In 2008, after a close look at the shifting goals of the group, the Board of Trustees rebranded the troupe as Skyline Theatre Company, named for the New York City skyline where so many of the company%u2019s great performers and designers are based. Skyline joined the prestigious New Jersey Theatre Alliance as an Associate Member. The search for a new venue quickly turned up the new Fair Lawn Community Center/George Frey Center for Arts and Recreation, and a co-sponsorship from the Borough of Fair Lawn made it possible for Skyline to move to a new home base. The board expanded, bringing in business professionals from the community and surrounding area.
The company continues to grow both its audience and its sponsor lists and enjoys warm support for bringing inspirational, professional theatre to Bergen County and Northern New Jersey.
Skyline Theatre Company is a 501(c)3 non-profit organization. We depend on private donations, corporate sponsorships, grants, and supportive audiences to fund our programming.