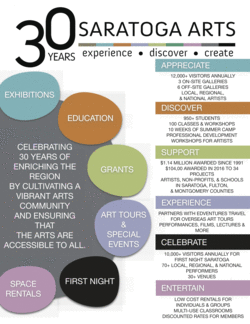 The Arts Center, at 320 Broadway in historic downtown Saratoga Springs, is the home for arts education for all ages; an art gallery; a gift shop, a performance space for film, music, theater, and much more.
All of our activities flow directly from our mission of making the arts accessible: we encourage and enhance public access to a full range of the arts and art modes, from traditional work by established artists and performers to contemporary work by emerging artists; we help all in the community recognize themselves as artists and explore their abilities to make art, and in our programming and approach to programming we enact that commitment; and finally, we work with other organizations in the region - arts presenters, business groups, and governmental agencies - toward our vision of a greater community that understands the powerful role the arts play in personal enrichment and community development, and the regional interconnections of all stakeholders in that vision.
Exhibitions:
Saratoga Arts presented 78 exhibitions last year. Those exhibitions provided opportunities for over 700 artists to show their work. Artists earned over $33,500 in sales through Saratoga Arts%u2019 exhibition programs last year, and more from sales they managed at Art in the Park.
Arts Education Program:
Last year, 42 artists taught in our program and 950 artists of all ages advanced their skills and explored a range of media in classes and workshops at The Arts Center.
First Night Saratoga:
Saratoga Arts hired over 70 performing groups last year that included many hundreds of individual musicians, comedians, dancers and artists and paid nearly $50,000 for their work.
Grants for Artists and Arts Projects in Saratoga, Fulton, and Montgomery Counties
15 artists served on grant selection panels last year and 3 artists on grant program advisory committees. 34 grants totaling $104,945 have been awarded to support community-based arts events taking place in 2016. Saratoga Arts has awarded over $1,000,000 in grants since these programs began!
Professional Development for Artists
Last year, Saratoga Arts offered 27 1-hour seminars in 3 counties to prepare approximately 100 community artists and arts programmers to apply for our grants, and partnered with Skidmore College to offer a two-day seminar for arts entrepreneurs presented by the Arts Business Institute.
For 2016-2017 we're planning professional development seminars on audience development, submitting work to galleries, and photographing your artwork.