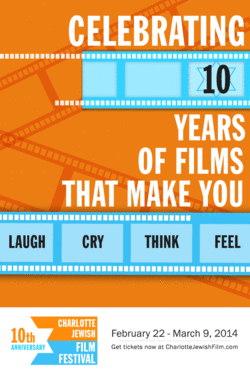 The Charlotte Jewish Film Festival provides an illuminating and entertaining cultural opportunity by bringing together a diverse group of film lovers to enjoy stories, characters and themes with universal appeal, viewed through the unique lens of the Jewish experience in America and around the world.
Through the dedication and hard work of our directors, committee members, volunteers, sponsoring organizations, corporate partners, patrons, community partners and our loyal audience members, the CJFF has grown from a 2-film event in 2005 to a 4-week cultural extravaganza that will bring over 20 screenings to an expected audience of more than 4,000 in 2014.
To celebrate our 10th Anniversary milestone, the CJFF has put together an incredible slate of award-winning, entertaining and thought provoking films. This year, 13 films are included in our core series and will be available in an All-Festival Pass. Purim Palooza will be a free event for young children and their families. The CJFF has expanded its presence in the Lake Norman area with a "Mondays at the Lake" series as well as a screening at Davidson College. Extras in 2014 include partnerships with the Mint Museum, GayCharlotte Film Festival, UNC Charlotte International Film Series and CPCC-Sensoria.
The 2014 CJFF will continue to bring you films that are going to make you laugh, cry, think and feel. See you at the movies!