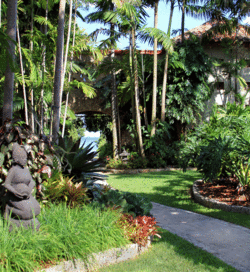 With more than 2000 varieties of tropical and subtropical fruits, palms and flowering trees, shrubs, and vines, The Kampong is an 11-acre green jewel in the middle of metropolitan Miami.
Formerly the private home and gardens of famed plant explorer Dr. David Fairchild and later, philanthropist Dr. Catherine Sweeney, the waterfront estate is open to the public for guided tours on Wednesdays and Saturdays at 10:30AM.
Tickets must be purchased in advance: kampong.ntbg.org or (305)442-7169
The Kampong is also available on a limited basis as a venue for weddings and corporate events.