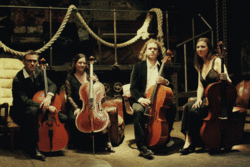 The North Sky Cello Ensemble of New York City embarks on a Bay Area tour, November 6-10.
The breathtaking sonority of North Sky's four cellos evolves into a hard-driving, electrified, rhythmic storm of sound.
Joining them for these shows will be the electric Brian Chase, drummer of famed indie-rock band the Yeah Yeah Yeahs, as well as three amazing Bay Area groups who also use old string instruments in new ways --
Foxtails Brigade (indie folk)
So Quartet (jazz fusion)
Squid Inc (rock string quartet)
These concerts are presented by Classical Revolution, which is celebrating its fifth anniversary this November with several special concerts and events.