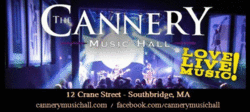 The Cannery Music Hall is a beautiful, acoustically sound room where music and hospitality come first. Centrally located in Southbridge, Massachusetts (about 1 hour from Hartford, Boston and Providence), we host various styles of live music each weekend.
Our team of dedicated sound and lighting technicians work hard to ensure that the needs of every musician that takes our stage are met.
Guests can get up close and personal on the large dance floor or take it all in from the mezzanine overlooking the stage and dance floor. Room capacity is 267 standing, 178 with tables and chairs.
12 Crane Street is a destination. It is also home to the Dark Horse Tavern. Whether it is a night of music and dancing, a game of pool/darts or cheering your team on the big screen, 12 Crane Street has just what you are looking for.
(Off-Street Parking and Entrance in Back)