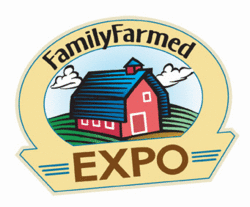 FamilyFarmed EXPO is a three day conference, trade show, and food festival for farmers, businesses, the trade, individuals, and families.
Thursday features our world-class Financing Farm to Fork conference supporting the local food movement by encouraging investment in farm and food production, processing, and distribution businesses.
Friday features the Midwest's leading local food trade show, a major school food track, our Meet the Buyers reception, an innovative Food Policy Summit, and the scrumptious Localicious Party to cap the day.
Saturday features cooking demos from celebrity chefs, educational workshops, seminars by Sally Fallon, and an interactive Kids Corner. Exhibitors, including farmers and food artisans, offer a wide selection of local food, gifts, and useful information to help you eat locally and healthy year-round.
For more details visit www.FamilyFarmedEXPO.com