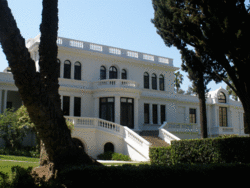 Founded in 1924 as the Pasadena Historical Society, Pasadena Museum of History is the only museum and research library dedicated solely to preserving and sharing the history, art, and culture of Pasadena and the west San Gabriel Valley. The Museum is committed to providing lifelong learning and has established a number of local history programs, activities, and lecture series that fulfill this goal. Our public programming, including tours of the historic Fenyes Mansion, lectures and seminars, and exhibitions reach children and adults alike. Designed to entertain as well as educate, the changing exhibitions presented in the History Center Galleries engage Pasadena's diverse and multi-faceted community.
The Museum preserves and shares a broad range of material relating to the area's history and culture. The Library and Archives' valuable collections include over one million historic photographs, manuscripts, books, maps, architectural artifacts, and ephemera, spanning the years from 1850 to the present. The Museum's extensive artifact collection includes textiles, ceramics, furnishings, and other three-dimensional materials, while its top-notch art collection includes paintings from well-known plein air painters.
Pasadena Museum of History offers a variety of educational, entertaining, and stimulating programs and events that further enhance our knowledge and enjoyment of the west San Gabriel Valley's rich heritage. Please visit www.pasadenahistory.org for more information.