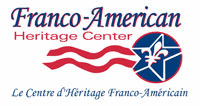 We are the Franco Center in Lewiston, ME, USA.
We present the best in symphonic music, solo instrumentalists, chorales and choirs, and contemporary music. We have a wildly successful theme night series, as well as more informal nightclub performances.
We're a performing arts organization that celebrates our Franco-American Heritage; a legacy handed to us by generations of our brave ancestors who relocated here from France, from Quebec, and from all across the globe. We also strive to welcome new visitors and residents to our region.
The Franco Center Box Office has three ways to help you order your tickets
Online: www.francocenter.org
Our online box office is open 24/7 for you! Please click here to go directly to the Box Office. You can use your credit or debit card (MC/Visa/Discover) to make your purchases over our secure network.
On the Phone: 207.689.2000
Our call center box office is open 24/7 for you, as well! Also, our call center is able to assist you with your order en francais! You can use your credit or debit card (MC/Visa/Discover) to make your purchases with one of our box office agents.
In Person: 46 Cedar Street, Lewiston, ME
Our Box Office is open for walk-up ticket sales Monday %u2013 Friday from noon to 4pm at our Box Office located on the Oxford Street side of the building. The Box Office in the main lobby is also open 1 hour prior to events. You can make your ticket purchase with cash, check, or credit/debit.
Fees
There are no fees when purchasing tickets using cash or check in person. If you require the convenience of using your credit or debit card for any transaction, there will be a small convenience fee* added to each ticket.
In most cases, patrons who wish to purchase their tickets on the day-of-show (DOS) will have a DOS fee of $2 added to each ticket. We appreciate patrons purchasing their tickets in advance, as it helps us with our planning. Thank you for your support by buying your tickets in advance!
* Please note that this fee reflects the exact cost to the Franco Center of providing this convenience to you. Fee is equal to 3.5% of the ticket price, plus one dollar. Thus, for example, a $20 ticket purchase using a credit or debit card would cost $21.70.
Ticketing
Upon purchase customers will have the option to receive their tickets in one of three ways:
Physical tickets %u2013 Regardless of whether you%u2019re purchasing your tickets online, on the phone, or in person, you can have physical tickets printed. In the case of phone and online orders, these tickets will be mailed to your address via USPS 1st Class Mail. If you%u2019re purchasing in person, we%u2019ll print tickets for you upon your order.
Express Delivery - If you are receiving physical tickets, you may opt to get these mailed to your address for a small fee. Please review these options upon your purchase.
Will Call - If purchasing on the phone or online, you can choose to have your name added to our will-call list. You need not worry about a ticket; we%u2019ve added you to our list and you can just check in at our will-call window when you arrive. Easy!
Email Tickets - If purchasing on the phone or online, you can choose to have your tickets sent to your email account. You can then open and print the attached ticket on your home printer, and bring your ticket to the event.
Terms of Purchase
Please note that all ticket sales are final. There are no refunds for ticket purchases. Tickets are transferable to other individuals, and can be gifted or privately sold.