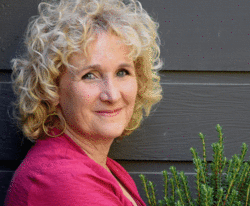 California native Nan Sterman is a garden designer, author, botanist, and award-winning garden communicator who hosts the public television show A Growing Passion.
Nan is dedicated to the transformation of planted landscapes from overly thirsty and resource intensive to climate appropriate and sustainable. Her efforts combine age-old techniques with modern technologies.
Nan has worked towards this goal since the 1970s when she was involved in the first wave of the sustainability movement.
Nan parlayed her early experiences in sustainability to address modern day issues. She is author of California Gardener's Guide vol II, the only book about low water, Mediterranean climate gardens written specifically for California home gardeners.
In 2010, she added Waterwise Plants for the Southwest to her publication list.
Nan Sterman's articles appear in the Los Angeles Times, Sunset, Better Homes and Gardens, and other major publications.
She writes a monthly water-wise garden column for the San Diego UT and is the gardening expert for San Diego public radio's Midday Edition talk show.
Nan co-produces, co-writes, and hosts A Growing Passion, a television show explores all the ways that San Diego "grows." A Growing Passion airs on KPBS TV, and online at www.agrowingpassion.com, www.kpbs.org and www.pbs.org
Nan speaks, teaches, and writes about low water, sustainable and edible gardening, all of which she designs for client's homes and school gardens.
She seeks out plants, methods, and technologies that ensure client gardens are as water-efficient, low maintenance, and beautiful as possible.
Nan lives in lives in Encinitas, California, where she serves as an adviser to the Water Conservation Garden, San Diego County Water Authority and sits on the Invasive Plant Committee for the City of Encinitas.
She co-founded a 5,000 square foot school garden and chairs the annual Encinitas Garden Festival & Tour.
Nan is a board member of the Garden Writers Association and a founding board member of the Association of Professional Landscape Designers, San Diego District.
Nan holds a botany degree from Duke University, a Masters in biology from UC Santa Barbara, and a Masters in instructional design from San Diego State University.