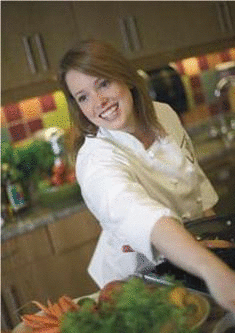 As the owner and driving force behind A NEW DAWN personal chef service since 2006, Executive Chef Dawn Wilson has provided catering, personal chef services, and cooking instruction to many clients in Chicago and the surrounding suburbs to rave reviews. Formerly a Research Scientist with Biology and Molecular Genetics degrees from Loyola University and University of Chicago, Dawn's passion for cooking and entertaining led her away from the lab and into the kitchen. She developed her culinary style with stints at Bin 36, Cafe Las Bellas Artes, several catering companies throughout Chicagoland, as the Culinary Director for Whole Foods Market-Northbrook teaching cooking classes and running the private event program, and as the fresh pasta-maker at Balena.
In 2011, Dawn lived and worked in Italy in the small town of Colle Val d'Elsa in the region of Tuscany. She spent several months working at the rustic Slowfood restaurant, Officina della Cucina Popolare, learning the secrets of Tuscan cuisine. Following her stage at Officina, she traveled and tasted her way around Italy with stops in many regions including Emilia-Romagna, Umbria, Veneto, Piedmont, and Lazio.
Dawn's broad expertise includes Italian, Mediterranean, Latin American, and Asian cuisine and heart healthy, gluten-free, and vegetarian lifestyles. Dawn is committed to using only the finest, freshest, seasonal ingredients, preparing each dish with care and a true passion for food, and creating a fun, delicious, and memorable dining experience for each and every guest.
Chef Dawn is looking forward to her next adventure as she opens a small authentic Italian neighborhood caffe in Roscoe Village, Chicago%u2019s charming %u201CVillage within the City%u201D. The casual, inviting caffe will feature an espresso bar, breakfast and lunch daily, and family-style communal dinners a few times per week. The authentic Italian menu will focus on hand-made pastas, artisan cured meats and cheeses, panini, and piadine using a combination of fresh, local, and imported Italian ingredients lovingly hand-crafted with the upmost care and rustic simplicity characteristic of Italian cuisine. For a sneak peek into the forthcoming caffe, check out Chef Dawn%u2019s preview pop-up dinners, %u201Cpopping%u201D up at unique locations around Chicago this spring!