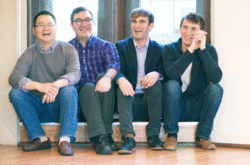 The Sebastians (www.sebastians.org) are a dynamic and vital musical ensemble specializing in music of the baroque and classical eras. Lauded as "everywhere sharp-edged and engaging" (The New York Times), the Sebastians have also been praised for their "well-thought-out articulation and phrasing" (Early Music Review) and "elegant string playing immaculate in tuning and balance" (Early Music Today). I Care If You Listen praised the ensemble's "beautifully-nuanced playing and thoughtful expressivity" in their début album, calling the recording a "technical and timbral tour-de-force."
Winners of the Audience Prize at the 2012 Early Music America Baroque Performance Competition, the Sebastians were also finalists in the 2011 York International Early Music Competition and the 2011 Early Music America/Naxos Recording Competition. They have participated in the Carnegie Hall Professional Training Workshop with L'Arpeggiata, and have performed at Music Matters (LaGrua Center in Stonington, CT), Friends of Music at Pequot Library (Southport, CT), St. John's Episcopal Church (Tulsa, OK), Juilliard in Aiken (SC), in the Twelfth Night Festival and Concerts@One at Trinity Wall Street (New York, NY), Early Music in Columbus (Ohio), the Renaissance and Baroque Society of Pittsburgh (PA), and Houston Early Music (TX). The Sebastians frequently collaborate with TENET Vocal Artists, including a critically acclaimed performances of Bach's St. John Passion.
The Sebastians début CD, Night Scenes from the Ospedale (Jan. 2015), pairs Vivaldi concerti from L'Estro Armonico with newly composed interludes by Robert Honstein. I Care If You Listen praised the "beautifully-nuanced playing and thoughtful expressivity" in the recording, calling the album a "technical and timbral tour-de-force." The group's second CD, the Sebastians a 2: Virtuoso Music of the Holy Roman Empire (Sep. 2015), explores the rich baroque repertoire of music for violin and harpsichord written by composers from modern-day Germany, Austria, and the Czech Republic. In Fall 2018, the Sebastians will release a new CD of trio sonatas and vocal works by Corelli, Colista, Handel, and Vivaldi, with soprano Awet Andemicael, and other recordings are currently in production for future seasons.
The Sebastians 201819 season features Venetian and Roman trio sonatas and concerti grossi; Bach's six sonatas for violin and obbligato harpsichord and sonatas for violin and continuo; and, with TENET Vocal Artists, Bach's St. Matthew Passion and Handel's Messiah, in intimate unconducted performances. The Sebastians are currently in residence at the Yale Collection of Musical Instruments.