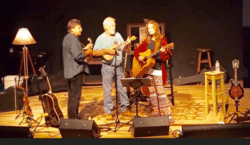 Songwriters and musicians Emily Higgins, Larry Lee and David Wilson are The HigLeeWils.
Emily Higgins is a songwriter, multi-instrumentalist and member of both The HigLeeWils and Auntie Em and the Tornadoes. The HigLeeWils currently perform songs from Emilys four solo albums, Singing River, The House at the End of the Road, On the Square and recently, 91 Acres, a commissioned collection of original songs describing the land reclamation efforts of a Douglas County, Missouri landowner and beauty of the property. Emily is producer and host of The Mulberry Tree, a weekly music program airing Sunday evenings on KSMU, Springfield, Missouris NPR affiliate station.
Larry Lee was a former founding member of the Ozark Mountain Daredevils (writer and vocalist of Jackie Blue), and toured with Jimmy Buffets Coral Reefer Band. He has produced multi-platinum records for artists such as Alabama, Restless Heart and Juice Newton. Larry has also been inducted as a member of the Missouri Writers Hall of Fame.
David Wilson has produced, recorded for, or performed with some of acoustic musics veteran musicians and songwriters; Radio Flyer (1985 Bluegrass Band Winner at the KFC-City of Louisville Festival), John Hartford, Jean Ritchie, The Dillards, The Ozark Mountain Daredevils, Undergrass Boys, Blackberry Winter, Barton and Para, The Gallier Brothers, Brewer and Shipley, and other notable artists. David also continues to teach fiddle and mandolin classes at numerous festivals around the country.
Together, the HigLeeWils deliver their original music with strong and true harmonies and natural musicianship to audiences who appreciate acoustic music delivered through the time-honored tradition of using a single mic.