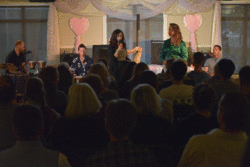 The Inspiring Hearts Project aims to show the potential of artistic practice and community collaboration to inspire participants with a sense of connection and empowerment.
We do this through several avenues, including:
1. Heart Resonance Concert: bi-annual concert offering an evening of musical performance and community connection
2. Music of the Soul Concerts: intimate gatherings offering more opportunity for interaction and personal connection with musicians and facilitators (e.g. house concert-type setting).
3. Pop-Up Concerts: Featuring Eily Aurora on the harp, as well as a special machine that lets us play plant music.
4. Anchor your Creative Vision workshops - experiential, facilitated workshops focused on assisting participants in gaining clarity and overcoming blocks toward action on their personal creative vision.
5. Inspirational speaking, workshops, presentations, workshops and individual coaching.
(Photos by Mike Unrau)