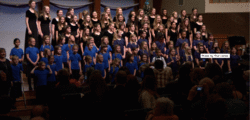 Central Coast Children's Choir
...creating choral excellence
...instilling self discipline
...building lasting friendships
...inspiring the artist within each child
Founded in 1994, the Central Coast Children's Choir provides children in San Luis Obispo County with the extraordinary opportunity of experiencing the joy of singing in live choral performances while receiving a high-quality music education.
Comprised of over 80 boys and girls from 6 to 18 years of age from around San Luis Obispo County, Central Coast Children's Choir singers are divided into six choruses: Debut, Apprentice, Premiere, Concert Choir and Advanced Vocal Ensemble. Auditions take place twice yearly and are held in a friendly, supportive environment. Weekly rehearsals are scheduled during after-school hours, and include musicianship training (sight-singing, ear training, note and rhythm reading, music theory and history) plus vocal coaching to assist in developing healthy singing habits.
Repertoire is selected to fit each choir's skill level, and includes established classical works, folk songs from around the world, as well as more contemporary styles, always striving to suit the child's voice. Choristers grow in self-discipline and confidence as they meet new musical challenges and achieve artistic excellence under the direction of dedicated music professionals.
A highly-respected and valuable asset in SLO County, the Central Coast Children's Choir has sung with premier performing groups in the community, including the San Luis Obispo Vocal Arts Ensemble, Cuesta Master Chorale, SLO Symphony, Opera SLO (formally known as Pacific Repertory Opera), and the Mozart Festival. As part of its support of other local non-profit organizations, the choir has performed at benefits for the SLO Children's Museum, Hospice, and C.A.S.A. Over the years, Central Coast Children's Choir singers have been chosen to represent California in National and Western State honor choirs in Las Vegas, New York, Honolulu, Chicago and Florida.