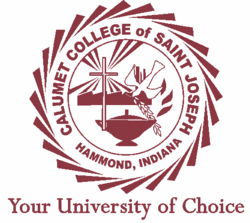 Calumet College of St. Joseph (CCSJ) is a small, family-oriented, four-year college offering master's, bachelor's, and associate's degrees as well as certificate programs. We serve a diverse student population that represents the Calumet area (Northwest Indiana and Northeast Illinois). Since many of our students work and raise families, Calumet College provides both full-time and part-time study options as well as day and evening classes that meet once or twice a week. In addition, students may be awarded credit for life experience.
Our small class sizes enhance the learning process and provide personal attention from faculty. CCSJ has no out-of-state tuition differential and is conveniently housed in a single building with plenty of free parking. The college's main campus is easy to reach: near the Skyway, Indiana Toll Road and the Cline Avenue extension, and just 30 minutes from downtown Chicago.
CCSJ is a member of the Northwest Indiana Quality of Life Council.