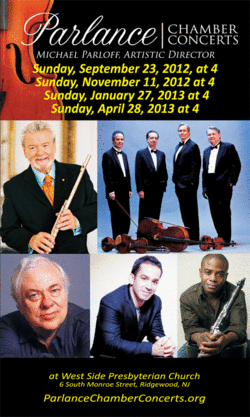 Dear Friends,
Welcome to the sixth exciting season of Parlance Chamber Concerts. These very special events will bring fourteen of the most extraordinary performers of our time to our community.
Our gala opener on September 23 will feature the legendary Sir James Galway, one of the most celebrated and beloved musicians of our time. The program will also present four more remarkable flutists: Lady Jeanne Galway; the New York Philharmonic's distinguished principal flutist, Robert Langevin; and the Met Opera's brilliant young co-principals, Stefán Höskuldsson and Denis Bouriakov. They will be joined by Sir James' longtime pianistic partner, Phillip Moll, in a program of dazzling showpieces and ensemble works.
On November 11, we will welcome back the Grammy award winning Emerson String Quartet in a rich and varied program. The previous appearance of this breathtaking ensemble was one of Parlance Chamber Concerts' most popular events. Be sure to purchase your tickets early for this sure-to-sell-out concert.
On January 27, it will be an honor to welcome pianist Richard Goode, one of today's most thrilling and highly acclaimed artists, to our series. Universally hailed as a deeply insightful interpreter of the Viennese classics, Richard will explore Beethoven's late piano works in a program aptly entitled "Beethoven - The Last Word."
Our season will conclude on April 28 in a concert showcasing three of the most charismatic young virtuosos on the scene today, Met principal clarinetist Anthony McGill, cellist Nicholas Canellakis, and pianist Inon Barnatan. These stunning players will collaborate on a program of favorite solos, duos, and trios by Beethoven and Brahms.
In the spirit of widening the audience for great music in our community, I will again provide spoken introductions and anecdotes about the performers, composers and music.
As always, we are deeply grateful to our devoted listeners and donors for the enthusiasm and generosity that make these inspiring events possible. Please help us continue to build a vital cultural life and a wider audience for great music in our community by making a tax-deductible gift when you make your ticket order.
I look forward to seeing you at Parlance Chamber Concerts!
Michael Parloff
Tickets
Order Online here or By Phone
A small service fee will be added to your order.
o Order tickets online at Brown Paper Tickets
o Phone the Brown Paper Ticket box office, which is open 24 hours a day, 800.838.3006.
Order Tickets by Mail: Complete the order form on the brochure (or download it
here
), and mail it with payment to:
Parlance Chamber Concerts 138 Phelps Road, Ridgewood, NJ 07450
Tickets will be sold at the door from 3 PM on the days of the concerts, as available.
Like Us on Facebook!