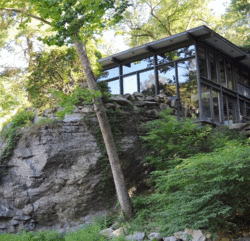 Located in Garrison, New York, one hour north of NYC, MANITOGA is the House, Studio and 75-acre landscape of American industrial designer Russel Wright (1904-1976). It is one of the few modernist sites with original landscape open to the public.
Manitoga is a National Historic Landmark, an Affiliate Site of the National Trust for Historic Preservation, a World Monuments Watch Site, and acknowledges the support the New York State Council on the Arts.
Manitoga's tour season begins May 15 and run through November 9th, 2020. Public tour tickets will be available beginning March 1, 2020. Contact the office to schedule private/group tours for the 2020 season.