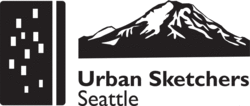 USk Seattle's 10x10 Workshop Program is back with an exciting lineup of instructors and workshops! The 10x10 program is a worldwide initiative to offer educational workshops wherever sketchers live. Launched in celebration of Urban Sketchers' 10th anniversary in 2017, the program brings a variety of courses on urban sketching techniques taught by talented local instructors in their home cities.
Registration begins February 29, 2020. The cost for each 3-hour workshop is $60 through our early bird date, March 27, 2020. After March 27, the price is $70 per workshop. Registration will be processed by the event management website, Brown Paper Tickets. For workshop details and other information, please visit: http://seattle.urbansketchers.org/
Important: The email address you provide when you register through Brown Paper Ticket is our only means of communicating with you. We need your current email so that your instructor can contact you with information about where to meet, possible last-minute changes, or other updates. If you prefer that we use a different email address for communication purposes, please contact us at usk.seattle@gmail.com.
Program Goals
1. Improve your skills by drawing from life, on location.
2. Learn how to compose and design your sketch on the page.
3. Experience the advantages of group learning and sharing.
4. Become confident sketching on location so that you can continue sharing stories from your city, one drawing at a time.