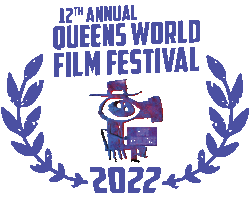 Live: November 1-6
Virtual November 20 - December 4 on FilmFestivalFlix.com
Turning 12 in 2022, QWFF includes an annual multi day/multi venue festival, youth-oriented educational initiatives and year round screening opportunities for QWFF filmmakers, past and present. In 2022, Queens World is a hybrid with 5 live venues across Queens NY as well as completely virtual on FilmFestivalFlix.com.
The festival is programmed in thematic blocks with evocative titles, and each live screening is followed by an artists talk-back to engage audiences from the demographically diverse communities that comprise the borough of Queens.
Each year the festival has a very robust submission session, with films coming from all over the globe, 83 nations to date, including Cuba, France, Spain, Serbia, Korea, Bangladesh, China, Italy, the Ukraine, Iran, Scotland, Belgium, Finland and the UK to name just a few.
Queens World presents films in every genre that connect us to the conversations artists around the world are engaged in, via the real stars of the festival: the films.