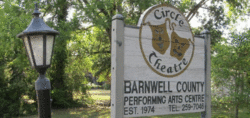 Circle Theatre is committed to bringing various stage productions to the Barnwell County area. We produce musicals, dramas, comedies and mysteries with casts large and small. We cultivate artists--young and old--from the surrounding area and help develop their creativity on the stage, behind it and in the technical areas.
Our CT veterans have decades of acting, directing and producing experience and are as eager to pass on their knowledge to others as they are in learning new things from others.
Every season we produce a minimum of three full stage plays. In addition, every summer we hold a week long youth camp culminating in a multiple show weekend that always sells out. Our season ends in August with Awards Night; our big night of recognizing our actors and actresses, directors and producers and some pretty good food and fun with good company.
Our doors and stage are always open to any members of the community who want to work in any way with the stage. We always have room for you and look forward to having you in our credits!