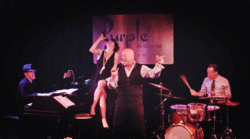 THE DESERTS PREMIER SUPPER CLUB
The sophistication and glamour of the Rat Pack era comes alive at Michael Holmes Purple Room, the deserts premier supper club. Tucked away in the Club Trinidad Hotel, The Purple Room is where Frank, Sammy, Dean, and their pals cavorted on and off the stage in the swinging 60s. Step in and youll be transported back to the elegance of the era: an intimate and inviting room, classic cocktails with a modern twist, world-class cuisine, and the best in live entertainment - six nights a week! Hobnob with celebrities, locals, and visitors alike at Michael Holmes Purple Room Supper Club.
Michael Holmes' Purple Room: Innovative Continental Cuisine & Live Entertainment.
If you have a special request, please call or email us. We will be happy to accommodate your needs.
If are interested in making a reservation for a non-ticketed evening, you may do so via OpenTable or by calling Purple Room directly.