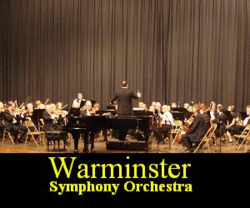 The Warminster Symphony Orchestra has had the privilege of providing cultural enrichment for the residents of Bucks and Montgomery counties since 1966. It is operated under the auspices of the Warminster Symphony Society as a not for profit corporation under the laws of the Commonwealth of Pennsylvania.
The Warminster Symphony Orchestra is comprised of approximately 65 dedicated and talented members who desire to share their love of music. The orchestra presents three subscription concerts annually in the 1900 seat William Tennent High School auditorium. Two or three outdoor concerts are presented each summer in the Bucks and Montgomery County area. As the Warminster Symphony Orchestra is a home for musical arts within the community, the Society recognizes its responsibility to cultivate a love of music within today%u2019s youth. A Family Concert, with repertoire for children between the ages of five and eleven, and a Youth Soloist Competition comprise our annual educational outreach endeavors. The Family Concert introduces children to the orchestral experience and orchestral etiquette. The Youth Soloist Competition offers young vocalists, wind, or string musicians the opportunity to perform with a symphony orchestra.
The musical excellence of the Warminster Symphony Orchestra reflects the extraordinary leadership of its Music Director, Joseph Lovecchio. Concert repertoire is of the highest quality. The Warminster Symphony Orchestra has programmed works by noted, contemporary composers from the Philadelphia area such as David Finko, Frank Hunter, and Tina Davidson. During the last six years the orchestra has collaborated with soloists of national and international reputation such as tenor Louis Browne (Ireland), tenor Frank Tenaglia, and pianist Clipper Erikson. Additionally, the concert repertoire seeks to develop a global awareness and often mirrors the cultural diversity of the communities it serves, as can be seen through concerts titled Music with a Spanish Accent, A Night in Italy, Night of Opera, Music from Ireland and the British Isles, and Scandinavian Serenade. Myths and Monsters and A Space Odyssey reflect repertoire designed to engage a youthful audience.
The mission of the Society and Orchestra remains two-fold: to preserve the musical arts within our communities and to maintain an affordable place for residents of all ages to be uplifted and reconnected through the universal language of music.