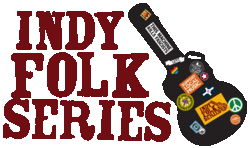 The Indy Folk Series is an intimate listening room venue featuring superb acoustics, art on the walls, and candles on the tables. Since 2001, the Indy Folk Series has featured a wide array of acoustic music genres, including Americana, Roots, Bluegrass, Singer-Songwriters, and more.
Each season brings established national and regional touring acts as well emerging local performers. An all-ages venue, Indy Folk Series audiences enjoy an up front and personal concert experience, with opportunities to meet the performers, first rate acoustics, and a friendly atmosphere.
The Indy Folk Series normally presents eight shows during the season which runs from September through May. Concerts are held once a month on Saturday evenings in the performance space at the Unitarian Universalist Church of Indianapolis.
Light refreshments, including beer and wine, are available prior to the concert and during intermission. Doors to the lobby open 45 minutes before the concert begins.