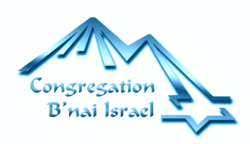 For more than 90 years, the mission of Congregation B'nai Israel has been "to create an environment in which all who enter our doors can be enriched and inspired by Conservative Jewish life, values, and spirituality."
Congregation B'nai Israel is the second-oldest synagogue in Albuquerque, and the first Conservative synagogue in the State of New Mexico. We are a welcoming, multi-generational community, conveniently located in Albuquerque's Northeast Heights, at the intersection of Indian School Road and Washington Street, just minutes away from I-25 and I-40.
Whether you are observing a yahrzeit, celebrating a Bar / Bat Mitzvah or other life cycle event, or just looking for a comfortable place to pray, learn, or socialize, Congregation B'nai Israel is the place to be.
If you are not already a member of Congregation B'nai Israel, we encourage you to visit us and to consider joining our family. Regardless of your current Jewish affiliation or background, we welcome you with open arms.