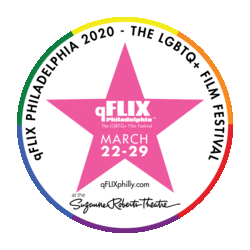 Mission Statement:
Our mission is to preserve the tradition of the exhibition of American and international lesbian, gay, bisexual, transgender, and queer independent film that reflects the diversity of our community. qFLIX USA presents this film festival for, by, and about our community. We produce this festival for the education, entertainment, and enjoyment of past, present and future generations.
About Us:
qFLIX Philadelphia is a production of qFLIX USA, Inc. Founded in 2014 qFLIX USA is rooted in 25 years of LGBTQ+ film festival leadership. We believe that experiencing our voices, stories and visions on film from around the world, from birth to death, from the loved to the loveless, from youth to maturity, helps lift us forward as individuals and as a community. Film as an international language allows qFLIX USA to foster, support, and give access to independent filmmakers and to encourage and nurture younger ones in the art of filmmaking. Queer film inspires the imagination and encourages the journey of discovery and acceptance by both the ever-growing regions LGBTQ+ and the mainstream communities.
qFLIX USA, Inc. is register 501 (c)(3) Nonprofit Corporation. Your donations are tax deductible!