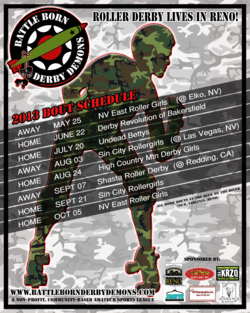 The Battle Born Derby Demons (BBDD) are Northern Nevada's first Women's Flat Track Roller Derby league. Skater-owned and operated, we are a non-profit, community-based amateur sports league.
Originally founded by Sweet Ruin, the league has grown considerably throughout the years. More and more women joined the league by word of mouth and, after months of practicing in several different venues (including the back room of a local bar!), the BBDD debuted our inaugural season on May 19th, 2007. Skating in the heart of Reno's historic downtown (right next to the region's beloved Truckee River), the BBDD soon proved we were an asset to the city, the community and women's athletics. By the end of our first season, we were drawing crowds of between 700 and 1000 fans! Flat track roller derby had found its place in northern Nevada.
Now entering our seventh season, The Battle Born Derby Demons are proud to have been named as a Women's Flat Track Derby Association (WFTDA) Apprentice League, an important step toward becoming nationally ranked. We continue to dedicate ourselves to our community (both through community service and fundraising efforts), to celebrate the strength and diversity of the many individuals that make up the league, and to follow the athletic ideals set down by the WFTDA: "For the skaters. By the skaters."